SECURE AND EASY CLOCKING WITH MIFARE AND DESFIRE TECHNOLOGY

Save time and money by choosing our MIFARE / DESfire powered clocking in devices. Besides regular registration with face recognition or an RFID badge, the TM-838 SC also supports MIFARE and DESfire clocking, allowing users to manage their time registration, access control, personal identification, and cashless transactions with just one badge. Your facility operations have never been easier.

FACE RECOGNITION
Not only is the TimeMoto TM-838 SC the most hygienic and easy clocking solution, it is also one of the safest. Whenever a user registers their face in the system, their features get converted into an advanced algorithm. This algorithm is so complex that no person or computer can ever convert it back to the original image, meaning that your personal biometric data is always stores safely, securely and according to the GDPR ruling.
The advanced MIFARE reader on the TimeMoto TM-838 SC allows users to clock in and out using their existing MIFARE or DESfire badge. The TimeMoto TM-838 SC is compatible with all MIFARE and DESfire systems that operate on a 13.56 MHz frequency and use an ISO/IEC 14443A protocol including the following solutions:

MIFARE Classic 1 KB & 4 KB
MIFARE DESFire 2 KB, 4 KB & 8 KB
MIFARE Ultralight
Legic MIFARE badges
ID06 cards
SPECIFICATIONS
Complete clocking solution including TimeMoto Cloud
Includes the TimeMoto Cloud Free plan and a 30-day TimeMoto Cloud Plus trial
Compliant with the new European Privacy Regulation (GDPR)
Collects and calculates hours worked, project hours, overtime and absences
For up to 2.000 users, including a maximum of 400 face templates
Time logs: Up to 100.000 logs
Clocking in/out with Face recognition, MIFARE and DESfire tools, RFID badge or PIN
Compatible with all MIFARE and DESfire badges that use a ISO/IEC 14443A protocol including: MIFARE Ultralight, MIFARE Legic, MIFARE Classic 1 KB & 4 KB, MIFARE DESFire 2 KB, 4 KB & 8 KB, ID06
Compatible with MIFARE and DESfire systems that operate on a 13.56 MHz frequency
Compatible with RFID systems that operate on a 125 kHz frequency
Connects over Wi-Fi, Ethernet (LAN) or USB Host
Quick and easy installation
Clock in with project codes
Smart clocking prevents users from accidentally clocking twice
No loss of data with the automatic data back-up function
Optional TimeMoto PC Plus Software available
Works seamlessly with the TimeMoto RF-100 and RF-110
Comes with wall mount kit for secure installation
Display: 3.5" TFT color
Key pad: Touch sense keys
Languages: EN, DE, FR, IT, ES, PT, NL, CS, SK, HU, PL, SV, DA, FI and ZH
Secured by: SSL SHA-2 and 256-bit AES encryption
Processor: 1.2 GHz Dual Core
Memory: 128 MB RAM / 256 MB flash memory
Power supply: AC adapter (110-240V) 12V/1.5A output
TM-PC software requirements: Windows 7, 8, 10
Dimensions: 9.9 x 21.5 x 4.4 cm
Weight: 470 gr
14 day satisfaction guarantee
3 year warranty (2 years from MegaloShop and 1 year from Safescan).
CE certified
* Ships after 10-15 working days from order placement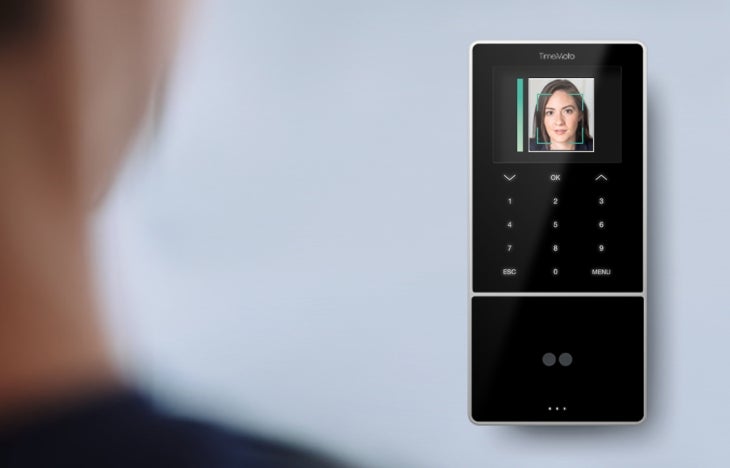 | | |
| --- | --- |
| Product Code | SAFU906669 |
| Condition | New |
You can save money on this item when you purchase several at a time. The table below shows the minimum quantities required to benefit from this offer, and how much they'll cost.
| Quantity | Price per unit |
| --- | --- |
| 1 | €819.00 |
| 5+ | €750.00 |